Its been another turn of the moon and the month has been jam packed with work, kids, and projects. After work 2 or 3 times a week, I've been helping Taylor's Dad work on stripping old paint off of their front porch. Its really old paint and has been baked on the wood paneling so the work to get it to come off is tedious and time consuming. That project has been taking up most of my time, so I haven't had much time in the garden except watering it occasionally to see if I can get the weeds and remnants of grass to sprout so that I can pull them out and couple of other things.
Flower Box Project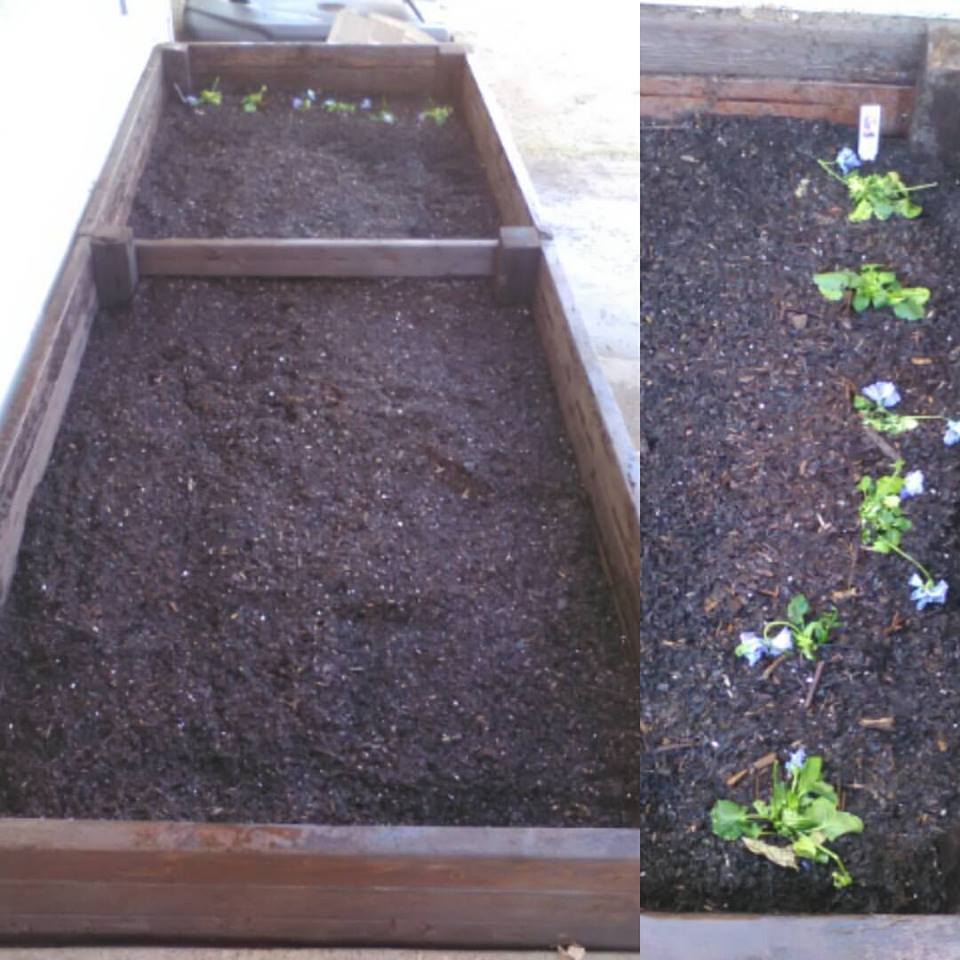 Taylor decided she wanted a little spot to grow things too and pretty up the front of our house at the same time. Underneath our front windows, there is a 10ft x 4ft old flower bed that had grown over and was no longer looking very nice. She thought it would be a great spot to plant some flowers and some herbs but she also wanted something raised with a dark stain. I still had plenty of old wood from the backyard so I said that I could build her a flower box and get it all ready for her to plant some things in. I didn't have an 2x4s that were long enough so I had to cut 60.25' long pieces for the long sides and 42' pieces for the short sides. The middle was abit weak so I supported it with 2 42' pieces there to give it more stability. Then we stained it. After we stained it, I moved it into place and then started filling it in with grass clippings from mowing the lawn. I decided to take out my little garden bed on the side of my house and use the dirt from there to put into the flower box. The dirt and clippings filled it up about half way. To fill in the remaining amount, I used vegetable and garden soil with fertilizer and 100% organic compost. It took 4, 2 cubic ft, bags of the soil and 2, 2 cubic ft, bags of the compost. I don't have a wheel barrow so I basically had to carry all the dirt, soil, and compost around. Needless to say, I was hurting the next day. The end result I think was totally worth it. Taylor planted some sad little pansies that desperately needed to be transplanted into the ground that she got from her grandmother, wild flower seeds, lavender, thyme, 2 types of chives, and rosemary.
Starting Seeds
This was my first experience starting seeds indoors and boy was it an "experience." Also, I have never used Jiffy Cups before, so i had some trial and error setting them up. I planted tomatoes in 7 jiffy cups and bell peppers in the remaining 8. The first seed planting I had the jiffy cups sitting on an old cookie sheet. This didn't work because the soil got too dry. Then I reseeded the pots and put them into tupper ware bins and put some water about half way up the cups. This was way too much water and turned the tomato sprouts yellow. Then Cody decided to "help" and dumped all my radish seeds into the tomato sprouts. I couldn't just pluck the radish seeds out because they were everywhere. So I decided to carefully remove dirt until I could pull out the sprouts and put them into new soil in the same jiffy cup. This worked on 1 of the 7 tomato cups so I had to replant the tomatoes again. Since the radish seeds got wet in the tupper ware bin, I decided the only thing I could do was put them in the garden. I just pulled off a couple inches off the top of the farthest left bed and tried to spread them as best as I could from the bin. At the same time I decided to use the little greenhouse sprouter that I got. I did 1 row of bell peppers and 1 row of tomatoes just in case anything happened to the sprouts I had in the tupper ware. I had the newly seeded greenhouse on the far side of the tupper ware bins away from the window so when the the tomatoes sprouted they got all leggy because they were reaching for the sun. Now that I have all of that worked out, the last picture of the indoor spouts above is the current state of my seedlings. Nice and happy and coming along great. I'll probably transplant them in a week or two, depending on how they do until then and the weather forecasts on possible freezes. Also, my radishes are doing great in the garden bed. I wasn't holding out much hope but they just went crazy. It looks like I'm going to have a bumper crop of radishes.
Amending the Beds and Putting Down Landscape Fabric
Laying down the landscape fabric was pretty straight forward. I bought 30'' wide landscape fabric. I measured out 25' and then cut it down the middle and folded one cut piece in half long ways. Then I staked it into the ground with landscape pins and walked it down the path putting a pin on each side about 10'' apart. I've done 2 paths so far. I have the third path and the perimeter left. To amend the beds I used the same soil and compost that i used in the garden box. I walked down each bed pouring the soil and then the compost over the top. After that was done, I took out my cultivator and mixed it in. That is done except for the patch of radishes.
Next up on the agenda for me is finishing up the landscape fabric and then setting up the drip irrigation kit I purchased at Lowe's. Hopefully I'll be able to do both of those things in the next week or two so that I can transplant my tomatoes and bell peppers and start seeding the beds with carrots, lettuce, kale, onions, cucumber, squash, watermelon, and strawberries. I've learned alot in the past month. Its been frustrating and satisfying all at once. Check back soon, there is plenty more to do here at the Nuke-City Veg garden.