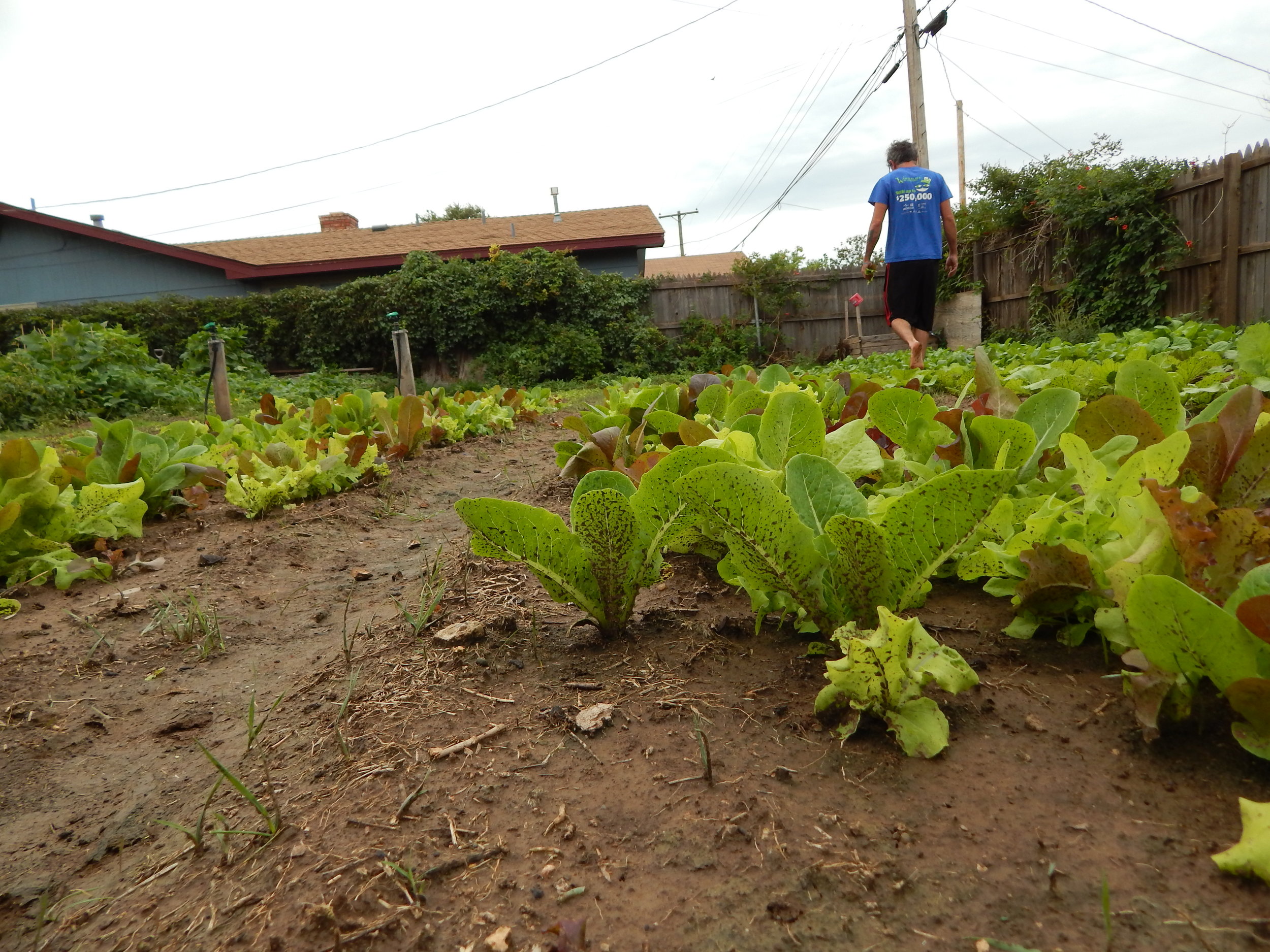 Saturday is the last planned market day for the season at Amarillo Community Market. Everyone at the market has been amazing, from the customers to Center City. You guys have made this a total success for me. I started off super small only bringing 8 quart bags of butter crunch lettuce and last week I brought around 125 lbs of produce, 20 lbs of gourmet salad mix, 20 lbs of mesclun mix or spring mix, 10 lbs of mustard greens, 50 lbs of cucumbers, 20 lbs of radishes, and 5 lbs of tomatoes. We have consistently increased our sales every weekend. This is directly related to you guys, my customers, and none of this would have been possible without y'all. Center City taking the time to setup an affordable, high profile market in Amarillo has been a Godsend for me. Lindsay, Timothy, and Beth have been working so hard to make the Amarillo Community Market a success and they have knocked it out of the park. They have been working on the market since April, which is just after I decided to make Nuke City what it is today. Their market has given me the platform and the exposure to make my field fresh produce available to you. I'm looking forward to next year and being a part of the Amarillo Community Market again. Its been a wonderful market so far and I know they will continue to improve and support the market for local producers here in Amarillo.
Since the market here is winding down, I've been exploring ideas to continue to get my produce to customers in the off season. I really want to get my produce into local restaurants but I have hit a bit of a road block with the Health Department. Because of the way I harvest the greens, like the gourmet lettuce and the spring mix, they categorize it as Temperature Control Sensitive food. The method I use is "cut and come again," meaning you can harvest it and it regenerates in a week or so and I can harvest it again. The Health Department, while they have been trying to work with me, are saying that I am not allowed to sell the greens to restaurants because they are not "whole or intact." I can sell to restaurants if I pull the entire plant from the bed but because I'm working on a small footprint I would not be able to have produce available week after week. The greens take about 20 to 25 days after planting to be ready to harvest. I would need 3 times as much land to be able to produce the same amount of greens if I pulled the plant completely from the ground as I would need using the "cut and come again" method so selling to restaurants right now is just not economical for a small urban farm like mine. So unless something changes, I can't sell to restaurants simply because I would not be able to meet their weekly demands for produce.
The other option I have is starting a Community Supported Agriculture program. In a CSA program, customers usually sign up for a weekly produce box, pay in advance, and receive a standardized box of produce. I am currently setting up a CSA program here on the website but with a little twist. After you sign up for my CSA program, you will get access to the produce page. This page will have the produce that will be available for the week. This page will function like any other website's products page and each item will have its own price. You will be able to select which items of produce you want each week in any combination. If you want just tomatoes one week just pick that. The next week you can choose the gourmet salad mix, cucumbers, and radishes if you wish. Also, if you refer someone and they become a member of the CSA, you will receive a 20% discount code that you can enter at checkout. This will be a one time code and you will receive a new code for each new referral. I'm also playing around with setting up a way to give you discounts after so many consecutive purchases. To get the produce you order to you, every week I will communicate with CSA members on whether or not I am able to deliver to their house or if I need to setup a point where everyone can come to pickup their box. I am currently working on ironing it out and will be releasing it in the next week.
I have also decide to partner with Square Mile Community Development. A new non-profit in Amarillo that is focusing on the San Jacinto neighborhood to help improve the lives of the residents. Currently San Jacinto is a food desert. There are no grocery stores that sell produce, residents have to leave the neighborhood to get healthy high quality food. That is one of the areas where I can help Square Mile. They plan on opening a small produce store where they will sell produce at affordable prices to the community. As they get further along in those plans, getting my produce to them is going to be a priority. I try to make sure my produce is of great quality and I do my best to price my produce in a way that is accessible for everyone. They are also looking to help residents through education. I'm still learning this micro-farming thing, but I feel that I can impact peoples lives by helping them setup their own gardens through education. Partnering with Square Mile is a big step for Nuke City and one that I am extremely looking forward to. It will help improve a neighbor hood that needs help and give both our organizations support and encouragement where we need it.
The future is bright here at Nuke City. Its all thanks to you guys. Thank you very much for making this market season a success. For the winter season, I will be setting up hoop houses over the beds to protect them from the cold. I will document the process as the season progresses. Again thank you for stopping by to checkout whats going on here at Nuke City.